OTEC is expanding its SF Series of stream finishing machines, with the addition of the SF-HP model, designed to accommodate larger and heavier workpieces. With its modern and compact design, the SF-HP was developed to round edges, polish, smooth and deburr large workpieces. This innovative machine can be used for applications across a variety of industries including aviation, machinery construction, forming tools, the energy, oil and gas industry, shipbuilding as well as the food industry.

Repeatable high-quality surfaces are guaranteed thanks to OTEC's proven Streamfinish technology. Our unique, patented pulse finishing process is also integrated in the new SF-HP. Economical processing of large and heavy workpieces is now a reality.
The new machine can process workpieces that are up to 650mm (25.5906 inches) in diameter and/or length and 200kg (440.925 lbs) in weight. Other features include a simple and intuitive user interface. Additionally, a variety of axis settings for the process head and spindle make almost any flow-through process media of the workpiece surface possible.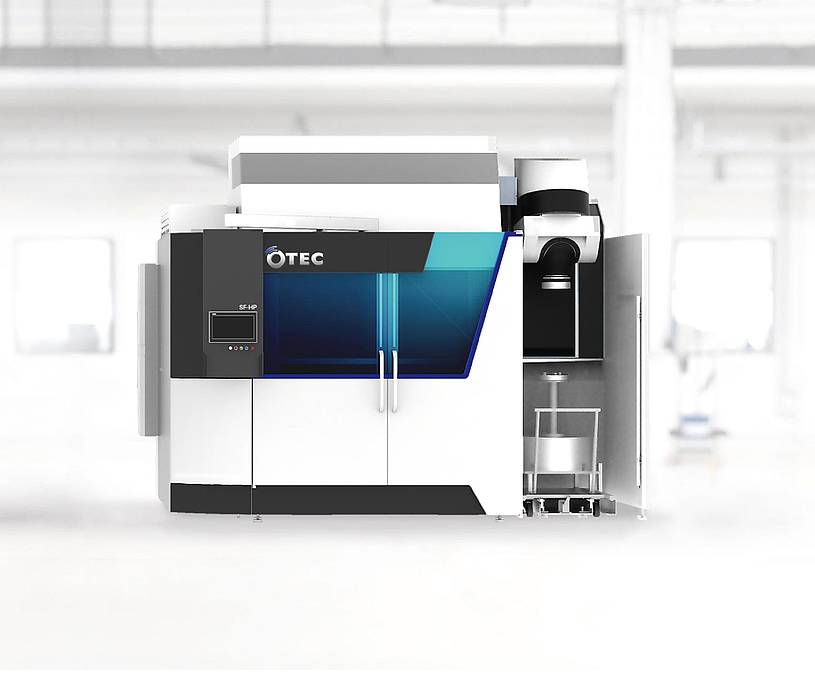 Some of the benefits of OTEC's SF series stream finishing machines include:
High efficiency and short processing times
A range of processing options depending on the requirements, including smoothing, high-gloss polishing, edge rounding and deburring.
User friendly operation through a multi-touch color display screen
Ergonomic machining of large and heavy workpieces through integrated automatic loading. 
Simple container changing enables multi step processes using different media. 
Improved tribological surface properties, which provide reduced friction and abrasion.
The highest surface qualities down to the smallest geometry. 
To see if OTEC's new SF-HP stream finishing machine is right for you, please submit a sample processing request and we can develop a process specifically designed for your workpieces and applications.